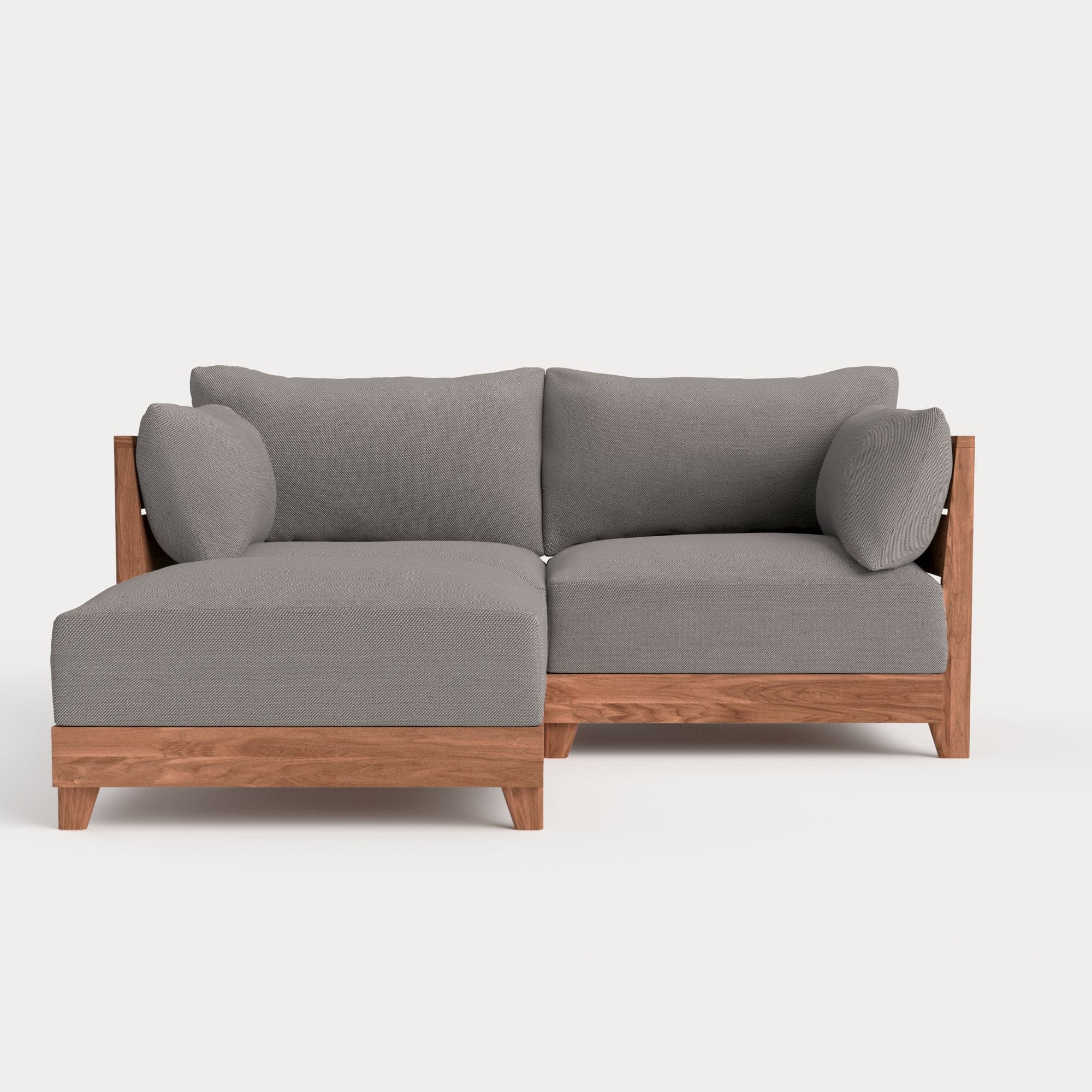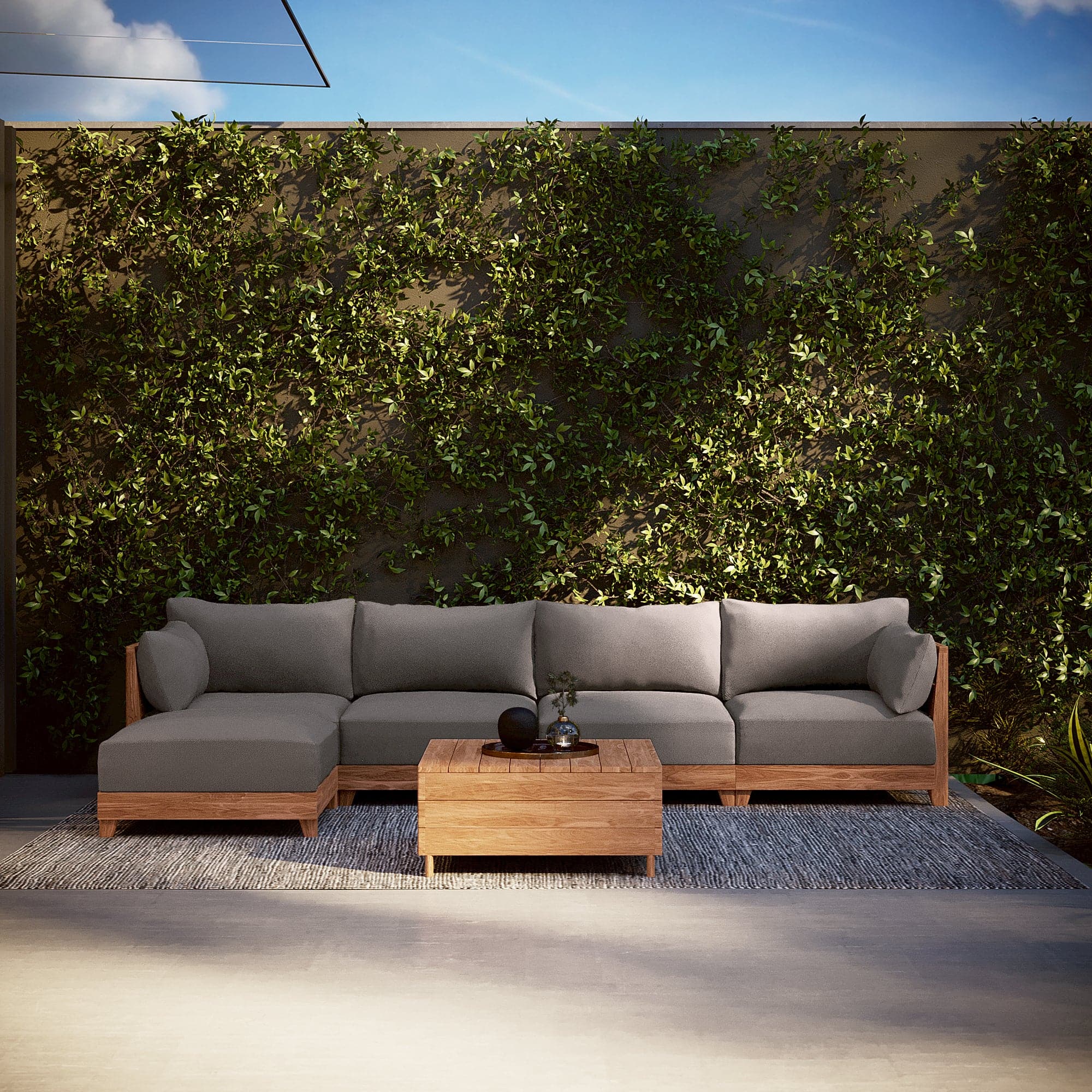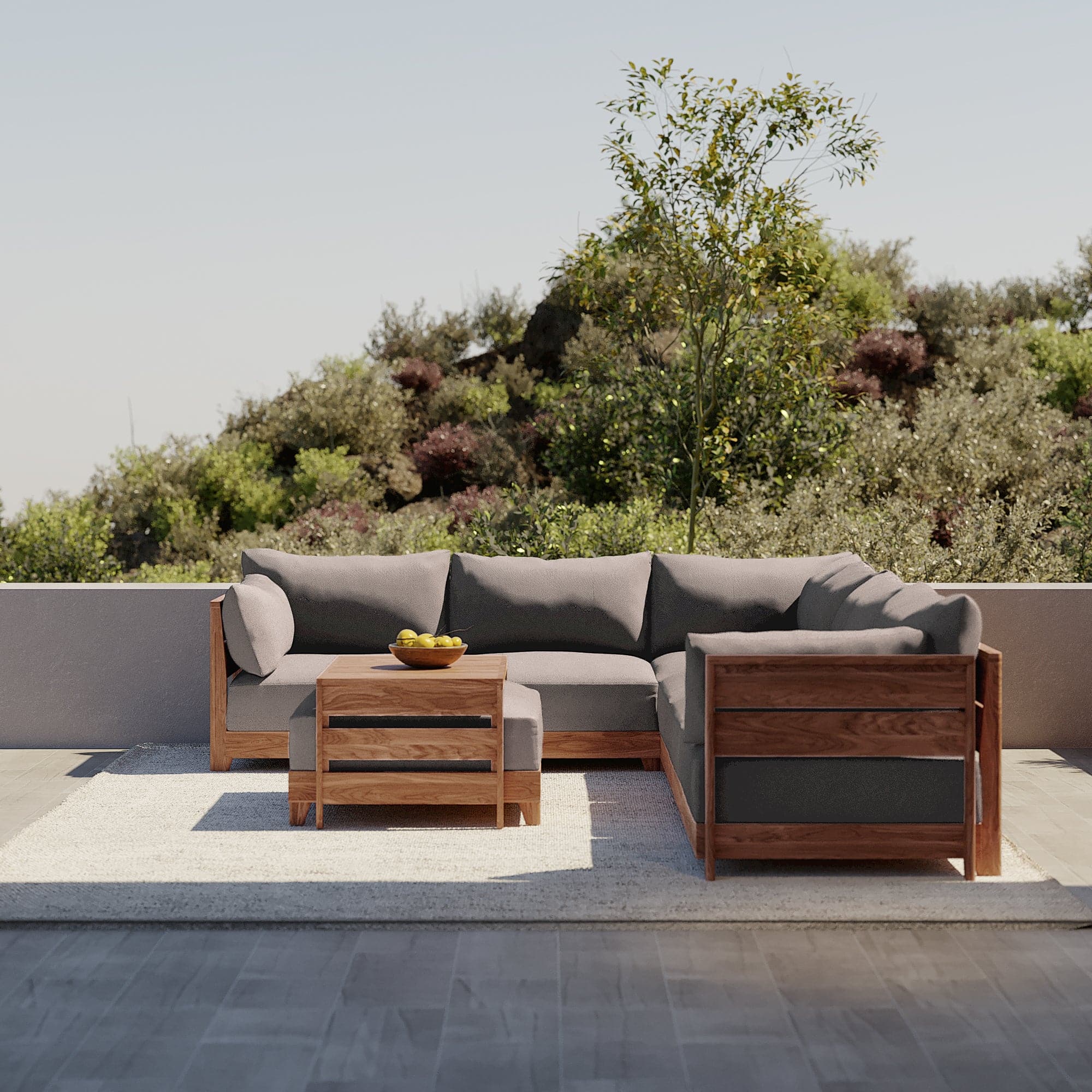 Modular Teak Outdoor Loveseat Sectional | Nano Slubweave in Haze Gray
Up To 35% Off
Save up to 35% OFF! Just use
code at checkout: AUTUMN
Subscription • Save
Estimated time to ship: 30-35 business days
Description
The Chicory Outdoor Living Collection is thoughtfully designed to be modular and weatherproof for effortless, comfortable outdoor living.


A Weatherproof Frame: Grade A Teak Wood and Stainless Steel Hardware—materials that prevent warping, rot and corrosion.
Performance Fabrics: Stain-resistant, UV Fade-proof, Pill-resistant, Rain-resistant fabric choices.
Removable easy-clean cushion covers.
Comfortable, Sustainable Lounging: Cushions & pillows made using a recycled, cruelty-free synthetic down alternative and high resilience CertiPUR-US® memory foam core. All fabrics are engineered without forever chemicals to be water resistant (PFC/PFAS Free) and are nontoxic Certified by Oeko-Tex®.
Mold & Mildew Resistant: Pillows protected with water-resistant liners and seat cushions featuring breathable moisture-wicking air mesh designed to regulate temperature.
Modular & adjustable frame design, that enables multiple configuration options.
Weatherproof Fabric
Our fabrics are engineered to withstand any climate. Utilizing the Solution Dye manufacturing method which yields the most durable possible outdoor fabric in the industry. This performance dying process permeates color through every single thread (versus just dying surface) promoting long term durability against uv exposure, water damage, and everyday outdoor staining. All fabrics are engineered without forever chemicals to be water resistant (PFC/PFAS Free) and are nontoxic Certified by Oeko-Tex®.
Easy Clean
The composition of our quality outdoor fabric is not only inherently easily cleanable but we've taken it a step further to make it 100% bleach cleanable. Additionally, every pillow and cushion cover is fully removable so that you can thoroughly care for your upholstery as needed.
Free Premium Delivery
Our Premium shipping & delivery is complimentary on all orders and includes room-of-choice delivery. White Glove shipping & delivery is available upon request which includes room-of-choice delivery, assembly and packaging removal.
Dimensions
What's Included:
4 Backs/Arms
3 Seat Blocks
2 Back Pillows
2 Arm Pillows

EACH SEAT BLOCK: 32" L x 32" W x 17" H

BACK PILLOWS: 32" L x 10" W x 15" H

ARM PILLOWS: 27" L x 9" W x 12" H
Free Premium Delivery
Complimentary shipping and room-of-choice delivery.
1 Year Home Trial
See your purchase through all four seasons. Anything less than perfect and we'll take it back.
Comprehensive Warranty
Our limited warranty offers up to 3 years of generous coverage to protect your purchase.
Nano Slubweave in Haze Gray
This subtle slubweave features timeless organic texture, designed with performance in mind to suit the everyday home. Engineered with nontoxic & earth-friendly water resistant technology to resist liquids and inevitable stains. This robust 100% Solution Dyed Acrylic is weatherproof and boasts an abrasion resistance of over 50,000 rubs. It's UV fade resistant, tested to maintain color integrity for up to 2,000 sunlight hours.
ORDER FREE SWATCHES →
Stain Resistant
A highly durable weave, extensively tested against all the common vices—i.e. dirt and Cabernet.
Fade Proof
Maintains color integrity for up to 2000 sunlight hours.
Rain Resistant
Resilient fabrics featuring a nontoxic finish that resists water saturation.
Mold & Mildew Resistant
Performance fabrics featuring inherent water resistant properties that help deter growth of mold & mildew.
Bleach Cleanable
Performance level cleanability. Every color maintains hue integrity when cleaned with 100% bleach solution, surpassing the industry's standards for bleach cleaning results.
Forever Chemical-Free
Engineered without forever chemicals to be water resistant (PFC/PFAS Free). Sustainably manufactured utilizing recycled water and made nontoxic Certified by OEKO-TEX®.
Modular & Adjustable
Our outdoor living collection is designed to move. Adapt and rearrange each module as you please to create your dream custom outdoor living configuration. The slatted solid wood panels can be used interchangeably on all seat modules and base blocks can be connected to one another in any direction! Place a storage coffee table between two seats for a modern inline lounge look or connect an ottoman to your loveseat and create a 2-seater sectional! Make it your way, depending on the day.
Comfort
In an effort to inspire people to spend more lounge time outdoors, we set out to design a spacious modular outdoor seating collection with comfort at its core—a characteristic too often forgotten in the outdoor furniture space. Our cushions are composed of 100% domestically sourced foam. Each seat cushion features a blend of low & high density, high resilience foams, CertiPUR-US® memory foam, and topped with a comfort layer of sustainable dacron—made using hundreds of recycled plastic bottles.
Sustainability
Our responsibility as furniture designers goes beyond creating beautiful outdoor products; we must do so while prioritizing the environment. For every order placed, and for every box shipped, one tree is planted with our reforestation partners. We've designed non-toxic packaging materials that are recycled and utilize renewable foam. Our teak wood is Certified by the Forest Stewardship Council. Every cushion features a recycled cosmetic down that upcycles hundreds of plastic bottles. All foam used is CertiPUR-US®, certified free of ozone depleters. Every detail counts.
Buy Now, Pay Later
Choose the way you pay when you checkout with Shop Pay. Split your purchase into flexible payments with as low as 0% APR
Learn more