Estimated time to ship: 20-25 business days
Description
The Modular Dwell™ Outdoor Living Collection is thoughtfully designed to be modular and weatherproof for convenient, comfortable outdoor living.


Stain-resistant, Fade-proof, Liquid Repellent Upholstery

Pillows: 100% recycled synthetic down

Interior Water-resistant Nylon Casings
Performance Fabric
Our industry-leading Solution Dyed Acrylic Upholstery is designed to endure all climates. The performance dye manufacturing process permeates color through every thread promoting long term durability against uv exposure, water damage, and everyday outdoor staining.
Easy Clean
The composition of our quality outdoor fabric is not only inherently easily cleanable but we've taken it a step further to make it 100% bleach cleanable. Every pillow cover features a zipper, making it fully removable, so that you can thoroughly care for your upholstery as needed.
Square Outdoor Accent Pillow
Free Premium Delivery
Complimentary shipping and room-of-choice delivery.
1 Year Home Trial
See your purchase through all four seasons. Anything less than perfect and we'll take it back.
Comprehensive Warranty
Our limited warranty offers up to 3 years of generous coverage to protect your purchase.
Meet Chicory Live
Tour the Dwell Collection in our virtual showroom from the comfort of your home.
Connect with an Expert →
Weatherproof Materials
Durable product designed with carefully selected materials that cater to all outdoor climates.
Stain Resistant
A highly durable weave, extensively tested against all the common vices—i.e. dirt and Cabernet.
Fade Proof
Maintains color integrity for up to 2000 sunlight hours.
Liquid Repellent
Resilient canvas featuring a nontoxic finish that resists all water-based liquids.
Mold & Mildew Resistant
Performance Acrylic featuring inherent water resistant properties that help deter growth of mold & mildew.
Bleach Cleanable
Performance level cleanability. Every color maintains hue integrity when cleaned with 100% bleach solution, surpassing the industry's standards for bleach cleaning results.
Oeko-Tex® Certified
Free from hazardous chemicals & treatments. Safe for you and the environment.
Comfort
In an effort to inspire people to spend more lounge time outdoors, we set out to design a spacious modular outdoor seating collection with comfort at its core—a characteristic too often forgotten in the outdoor furniture space. Choose between two custom height styles to tailor your lounge, both of which are composed of 100% domestically sourced foam. Each proprietary module features a blend of low density & high resilience foams wrapped in a comfort layer of sustainable dacron made using hundreds of recycled plastic bottles.
Sustainability
As furniture designers, we believe that it's not only our job to design products to be enjoyed outside but that it's equally our responsibility to design with the environment top of mind. For every order placed, and for every box shipped, one tree is planted by the Nation Forest Foundation. We've designed packaging materials that are non-toxic, recycled and utilize renewable foam. All of our wood is Certified by the Forest Stewardship Council and the foam used in every cushion and pillow upcycles hundreds of plastic bottles. Every detail counts.
FAQ
Will the fabric color change over time?
Our performance fabrics are designed for the outdoors. They have been tested for a UV lightfast rating of up to 2000 hours which is considered fade-proof in the industry. For ultimate longterm color protection, we recommend prompt spot cleaning when needed and avoiding contact with high moisture and extreme sun environments when possible. It's always recommended to bring in furniture during harsh winters, storms, etc. and to cover it when not in use for ultimate care and long term protection.
Are the pillow covers removable?
Yes! Each pillow features a zipper for easy removal and cleaning.
How can I clean the pillows?
The composition of our quality outdoor fabric is not only inherently easily cleanable but we've taken it a step further to make it 100% bleach cleanable so that they can be bleached when needed without compromising the color. Every pillow cover features a zipper, making it fully removable. When spills occur, we recommend to always blot (not rub) liquids with a clean, dry cloth. For oil-based spills, apply an absorbent such as corn starch, then remove it with a straight edge. Lastly, spray on a mild cleaning soap solution mixed with water. Rinse the fabric thoroughly to remove all soap residue and air dry!
Customer Reviews
08/24/2022
Anonymous

United States
I love my Chicory Furniture
I do have to say at first I was a bit leery ordering on line. I waited patiently until it was ready to ship and then had an issue with the shipping company. Chicory was always quick to respond to all my questions and concerns and even switched carriers when the one they originally hired did not come through. I did get my furniture and I absolute love it so much that I am ordering the cushion covers in a different color! I ordered the cloud and its dreamy, but I'm thinking I may want it in the blue! Don't hesitate to order this furniture. It is well made and beautiful!
07/22/2022
Edith M.

United States
Good quality wood
Convenient for storage!
07/22/2022
Edith M.

United States
Cute pillows
Cute! Matches fabric quality
07/22/2022
Edith M.

United States
Do it!!!
I saw an advertisement on IG, it's exactly what I was looking for but I never heard of Chicory and didn't see much engagement on their post. I was sort of afraid to place an order but I did because I used my Amex card and in case it was fraud I would be ok. I am so happy I took my chances, I LOVE LOVE LOVE my set!! Super comfy! Amazing fabric quality! Quality wood work. The two months of waiting was totally worth it!! It also arrived a little earlier than expected.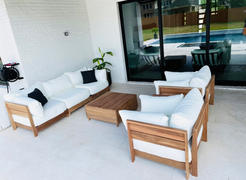 07/08/2022
Sarah S.

United States
06/19/2022
Shawn S.

United States
Exactly what we were looking for
The sectional is perfect for our large patio. This is very high quality and much more reasonably priced than competitors. I also like they the sectionals have clamps to keep them from separating. We did a stain test on the white fabric and ketchup and wine cleaned easily with a little soap and water. We may purchase more to add to the modularity. Highly recommend!
06/17/2022
Anonymous

United States
Exactly what we hoped for!
We are so so happy with our set of loveseat and two chairs with covers. We got the dark gray color and it is really beautiful with the teak. I would absolutely recommend and I am very pleased considering these are not cheap. They are obviously well-made and appear to be durable and will be with us for a very long time! The only con that we have is that the delivery company used takes an additional 3 to 4 weeks after production of the furniture, so account for this. However we are across the country from production so this could be different for those closer to CA. The men who assembled the furniture were fast and wonderful. I have only positive things to say and am so happy we splurged on this outdoor set!
03/24/2022
Ryan P. (Verified Beta Customer)
Good overall
It's great quality and its the perfect size for my space. But I do wish it had a lock on it the ensure nothing will get stolen since I plan on keeping it outside as much as i possibly can.
03/24/2022
William S. (Verified Beta Customer)
its the perfect pop of color
its the perfect pop of color (i did yellow!) and easy to assemble. Very happy with it.
03/24/2022
Michelle M. (Verified Beta Customer)
Better than we could have imagined!
When I first saw Chicory on Dwell I thought it was indoor furniture because it doesnt have that makeshift look that most outdoor furniture has. I was looking for something that felt substantial and a bit more high end / design focused and Chicory delivered! I'm thrilled with the comfort level and quality. The teak is an interesting color, really beautiful i like it.
03/24/2022
Ally P. (Verified Beta Customer)
03/24/2022
Joel F. (Verified Beta Customer)
Just in time for the Spring!
Overall, this was a great experience for us as Beta testers. Our patio was looking pretty bleak before we got this gorgeous set! It completely elevated the look of our yard. And we love how modular it is. We can make many different configurations with just these 4 units. They also gave us extra c-clamps so we can make 2 loveseats or even one long 4-seater. The covers are a must have. Smaller covers for each unit is so much easiler to store than one huge cover for the entire loveseat or large sofa. Very happy with this product!
03/24/2022
Joey T. (Verified Beta Customer)
Everyone loves this sofa!
We are blown away by these sofas! When I first saw the collection online I thought it was beautiful, but in person it's even better! It's perfect for us because we have a big family and host a lot so we wanted something comfortable but also easy to clean. We've already washed the cushions after a recent house party and it was so easy! It got so many compliments at the party as well I might add. Its a stunner. And the storage tables solved our problem of having random stuf laying around the yard. Highly recommend, exactly what we needed.
03/24/2022
Thomas L. (Verified Beta Customer)
Great Quality
It's exactly what we were looking for and a great addition to our patio. We don't always want to use the ottoman, so putting it out of the way gives us more space around the sofa. Sometimes the kids sit on the ottoman and use the coffee table to eat dinner. It's the perfect height for our kids.
03/24/2022
Jerry B. (Verified Beta Customer)
Exactly what I wanted!
We have 4 boys and of course that comes with endless outdoor toys and now we finally have an organized and practical way to store all the toys that all doubles as a bench and a table! It fits perfectly with our outdoor sofa as well.