Estimated time to ship: 20-30 business days
Description
The Modular Dwell™ Outdoor Living Collection is thoughtfully designed to be modular and weatherproof for convenient, comfortable outdoor living.


Stain-resistant, Fade-proof, Liquid Repellent Upholstery

Pillows: 100% recycled synthetic down

Interior Water-resistant Nylon Casings
Performance Fabric
Our industry-leading Solution Dyed Acrylic Upholstery is designed to endure all climates. The performance dye manufacturing process permeates color through every thread promoting long term durability against uv exposure, water damage, and everyday outdoor staining.
Easy Clean
The composition of our quality outdoor fabric is not only inherently easily cleanable but we've taken it a step further to make it 100% bleach cleanable. Every pillow cover features a zipper, making it fully removable, so that you can thoroughly care for your upholstery as needed.
Square Outdoor Accent Pillow
Free Premium Delivery
Complimentary shipping and room-of-choice delivery.
1 Year Home Trial
See your purchase through all four seasons. Anything less than perfect and we'll take it back.
Comprehensive Warranty
Our limited warranty offers up to 3 years of generous coverage to protect your purchase.
Try Before You Buy
Try a modular Chicory Armchair for FREE before you finalize your configuration & purchase!
learn more →
Weatherproof Materials
Durable product designed with carefully selected materials that cater to all outdoor climates.
Stain Resistant
A highly durable weave, extensively tested against all the common vices—i.e. dirt and Cabernet.
Fade Proof
Maintains color integrity for up to 2000 sunlight hours.
Liquid Repellent
Resilient canvas featuring a nontoxic finish that resists all water-based liquids.
Mold & Mildew Resistant
Performance Acrylic featuring inherent water resistant properties that help deter growth of mold & mildew.
Bleach Cleanable
Performance level cleanability. Every color maintains hue integrity when cleaned with 100% bleach solution, surpassing the industry's standards for bleach cleaning results.
Oeko-Tex® Certified
Free from hazardous chemicals & treatments. Safe for you and the environment.
Comfort
In an effort to inspire people to spend more lounge time outdoors, we set out to design a spacious modular outdoor seating collection with comfort at its core—a characteristic too often forgotten in the outdoor furniture space. Choose between two custom height styles to tailor your lounge, both of which are composed of 100% domestically sourced foam. Each proprietary module features a blend of low density & high resilience foams wrapped in a comfort layer of sustainable dacron made using hundreds of recycled plastic bottles.
Sustainability
As furniture designers, we believe that it's not only our job to design products to be enjoyed outside but that it's equally our responsibility to design with the environment top of mind. For every order placed, and for every box shipped, one tree is planted by the Nation Forest Foundation. We've designed packaging materials that are non-toxic, recycled and utilize renewable foam. All of our wood is Certified by the Forest Stewardship Council and the foam used in every cushion and pillow upcycles hundreds of plastic bottles. Every detail counts.
FAQ
Will the fabric color change over time?
Our performance fabrics are designed for the outdoors. They have been tested for a UV lightfast rating of up to 2000 hours which is considered fade-proof in the industry. For ultimate longterm color protection, we recommend prompt spot cleaning when needed and avoiding contact with high moisture and extreme sun environments when possible. It's always recommended to bring in furniture during harsh winters, storms, etc. and to cover it when not in use for ultimate care and long term protection.
Are the pillow covers removable?
Yes! Each pillow features a zipper for easy removal and cleaning.
How can I clean the pillows?
The composition of our quality outdoor fabric is not only inherently easily cleanable but we've taken it a step further to make it 100% bleach cleanable so that they can be bleached when needed without compromising the color. Every pillow cover features a zipper, making it fully removable. When spills occur, we recommend to always blot (not rub) liquids with a clean, dry cloth. For oil-based spills, apply an absorbent such as corn starch, then remove it with a straight edge. Lastly, spray on a mild cleaning soap solution mixed with water. Rinse the fabric thoroughly to remove all soap residue and air dry!
Customer Reviews
12/21/2022
Anonymous

United States
Almost great
The fabric is so easily cleaned - it's incredible. The insert needs to be larger- the cushion looks a bit sad because the insert does not fully fill it out.
11/20/2022
Jaimee S.

United States
Hi
I liked everything. Super quality.
10/25/2022
Anonymous

United States
10/18/2022
Kimberly H.

United States
Checks all Boxes.
The couch is comfortable, durable, and attractive. I'm really happy with it.
10/17/2022
Tony M.

United States
Phenomenal.
Such a great piece, comfort, quality. My porch is now a magical place for a gathering or a nap.
09/28/2022
HeatherK

United States
Excellent purchase!
This outdoor furniture is amazing, and super comfy. I've been looking to replace our outdoor furniture for a whole year, and haven't felt compelled to pull the trigger on anything until I saw an ad on Instagram for Chicory. It was a bit of risk because I've never heard of this company, but it did not disappoint. I find most outdoor furniture uncomfortable/stiff, and uninviting, which leads to never using it. The entire process is seamless, and delivery is white glove service. They do it for you! I ended up buying another section at a later date because the sectional was too small for the space. It was the same great service. Would totally recommend investing in these pieces, and would love see them offer chaise (poolside) lounge chairs in the future. ;) We spend a lot more time enjoying our backyard as result. Would recommend to spend the extra money and get the covers.
09/22/2022
Todd S.

United States
Love this piece and the looks
Assembly was straight forward although some of the bolt ends were not aligned great and did not allow full tightening. Biggest disappointment was the frame was covered with fine dust from construction and stained the cushion reddish/brown. Most was able to be cleaned off but very apparent on the light colored cushions.
09/21/2022
Ben M.

United States
Exceptional Quality, comfort, and support.
We couldn't be happier with this set.
09/05/2022
Hilary

United States
Love it!
I was nervous because I had never heard of this brand and there weren't a ton of reviews. But I'm here to reassure you that you won't regret this purchase! Super comfy and stylish. Plush without being bulky. I am using for a screened in back porch so I cannot comment on how they hold up outside.
I had a lot of questions before purchasing and using the virtual showroom really helped! The rep answered all my questions and I got to see the sofa details in the live video. Highly recommend if you have an hesitations. Great service! I brought a 5-seater right after the call.
08/24/2022
Anonymous

United States
I love my Chicory Furniture
I do have to say at first I was a bit leery ordering on line. I waited patiently until it was ready to ship and then had an issue with the shipping company. Chicory was always quick to respond to all my questions and concerns and even switched carriers when the one they originally hired did not come through. I did get my furniture and I absolute love it so much that I am ordering the cushion covers in a different color! I ordered the cloud and its dreamy, but I'm thinking I may want it in the blue! Don't hesitate to order this furniture. It is well made and beautiful!
07/22/2022
Edith M.

United States
Good quality wood
Convenient for storage!
07/22/2022
Edith M.

United States
Cute pillows
Cute! Matches fabric quality
07/22/2022
Edith M.

United States
Do it!!!
I saw an advertisement on IG, it's exactly what I was looking for but I never heard of Chicory and didn't see much engagement on their post. I was sort of afraid to place an order but I did because I used my Amex card and in case it was fraud I would be ok. I am so happy I took my chances, I LOVE LOVE LOVE my set!! Super comfy! Amazing fabric quality! Quality wood work. The two months of waiting was totally worth it!! It also arrived a little earlier than expected.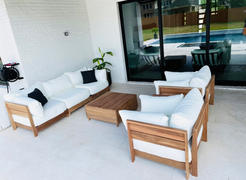 07/08/2022
Sarah S.

United States